How to build a robotic vehicle
After attending a demonstration by the Roanoke Robotics & Makers Club of Southwest Virginia given at the MystiCon 2017 Science Fiction Convention held in Roanoke, VA, I decided to try my hand at building a small robotic car.  This blog will be following my research, acquisition of parts, and construction.
Pinned Posts
My objectives are: The car is controlled from an Android App. The car will have one or two sensors that will prevent it from bumping into walls. The car will be controlled by an Arduino Uno board and a Raspberry Pi 3 computer. The real reasons that I am doing …
Recent Posts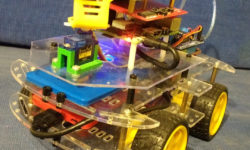 This gallery contains 2 photos.
It has been a while since my last post.  Work is progressing though a bit slower that I had originally planned.  The title photo for this entry is the Robotic Car with all components installed.  At least, all that were planned. The coding for the Arduino is complete.  It can …